PADI Enriched Air (Nitrox) Diver Course


December 2018
If you have any upcoming diving holidays or trips then this course is for you!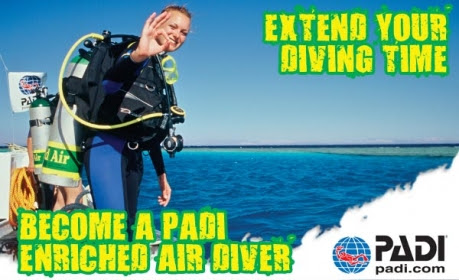 This is PADI's most popular specialty scuba diving course
Diving on enriched air typically means longer dives, more dives and a reduction in fatigue, especially on repetitive scuba dives, which you tend to do on holiday. Using enriched air nitrox you can typically stay down longer and get back in the water sooner. No wonder many divers choose this course as their very first PADI specialty.

What You Learn:
- Techniques for getting more dive time by using enriched air nitrox.
- Enriched air scuba diving equipment considerations.
- Enriched air; managing oxygen exposure and tank contents.
- How to set your dive computer for enriched air.

For more information visit our website: Enriched Air Diver Speciality

When:
We have the following dates booked for our courses so choose one or more and let us know before the 23rd of November.

Saturday 1st December
Saturday 8th December
Saturday 15th December

We will send an email out on Saturday 24th of November, to let you know the most popular date for the course to run.

Time:
9:30am - 2pm (approximate finish time)
Included:
PADI Enriched Air Diver Crewpack - Computer Use
Classroom Knowledge Development Session
Practical Workshop
Certification
If you have any questions about taking the PADI Enriched Air Diver Course or wish to book on, give us a call on 01473 711818, email info@galaxsea.co.uk or visit us.